To celebrate Pride Month we have put together an inspiring LGBTQAI+ comics list from a variety of genres.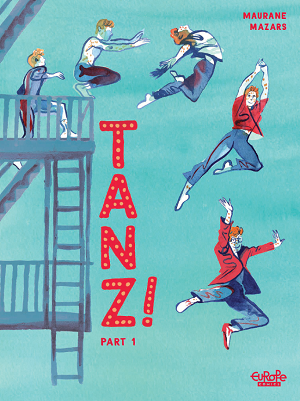 Tanz!
Germany, April 1957. Uli has a dream: to become a famous Broadway dancer. But as a modern dance student at the prestigious Folkwang school, Uli's energetic and outgoing personality stands out in sharp contrast to the melancholy of post-war Europe. During a trip to Berlin, he meets Anthony, a young American dancer. The attraction is immediate. Anthony convinces Uli to come to New York and try his luck on Broadway. The young men part ways, but Uli will pack his bags and embark on an adventure that will take him to a new life overflowing with life, color, and movement — but also disappointment, harsh reality, and a good dose of heartbreak.
1976, Nicaragua. "Tacit" Somoza rules the small Central American country with the support of the ruthless Guardia. The son of a powerful family from the capital, Managua, Gabriel is a young priest with an incredible talent for sacred art. He is sent to enhance his painting skills with Ruben, a priest in San Juan–a little village located at the base of a mountain. Despite his difficulty integrating with the villagers due to his father's reputation, Gabriel slowly gets to know them and, eventually, to love them. Encouraged by Ruben, he paints the villagers. He paints them as they are–men and women of flesh and blood. But Gabriel is soon witness to acts of military repression of the locals. It doesn't take long for him and the villagers to get swept away in these times of growing rebellion and smoldering revolution. Nourished by a sense of divine justice, Gabriel begins to understand the villainy of those in power and their cronies. When he's eventually taken in and treated by the guerillas camped out in the forest, he lies about his family name and swaps his pencils and paint brushes for firearms. As he gazes beyond the surface and deeper into the depths, Gabriel also discovers his own humanity, made of flesh and desires…
When Clémence, a student and actress struggling with personal issues, sees how miserable her grandmother is in her nursing home, she decides to break her out and take her on a road trip to the coast so she can see her childhood home one last time. But traveling with a senior with Alzheimer's Disease comes with a fair amount of challenges, and the journey is fraught with highs, lows, and near misses. Still, it's a chance for the two women to reconnect, with each other and with themselves, and it's a chance for Clémence to give Grammy the gift of one last thrilling and joyful experience.
Beatrice is stuck in a depressing office job: her hard work is overlooked, her paycheck's so small she's about to lose her apartment, and her boss won't give her a promotion unless she sleeps with him. But Beatrice just took a vacation to Africa, where she learned a very particular set of skills, both in and out of the bedroom. She's about to transform her boss's life in a way that he never saw coming. She'll get a maid to clean her dirty apartment. And maybe, in the process, Beatrice will finally find love . . .
During the 1851 Great Exhibition in London, two women's lives become irrevocably intertwined when they both fall victim to a nefarious underground fraternity of ex-soldiers from England's upper crust who have sworn their lives to defending the British Empire—as well as their own decadent lifestyles. In this first volume, young rebel Jennifer Winterfield and the mysterious Kitamakura from Japan forge an unlikely alliance along with Jennifer's doctor uncle and a street urchin named Pickles. Together they lay the groundwork for a criminal organization that will go on to sow terror in the hearts of the colonialists and industrialists who tried to put them down.
When Zapsky and Byro meet during a right-wing nationalist march, their joint escape from the police results in an unexpected and violent outburst of passion. Their initial euphoria quickly turns into doubt and fear—after all, if their buddies found out about them, the consequences would be terrible… But now that they've come together, will they be able to simply forget and move on with their lives? Or is it something more lasting, despite the risk it represents for both? "Nationalist Love" is the third graphic novel by Jakub Topor, nominated for the graphic novel of the year award at the Lodz Comics Festival.
Cover banner from SHI © Zidrou, Josep Homs / Dargaud