The winter holiday season might be in full swing, but there's definitely something missing over here at Europe Comics HQ. Snow!! People need snow!! We therefore invite you to read our most "snowy" titles, to get yourself into proper winter mood! Simply click on the covers below and enjoy!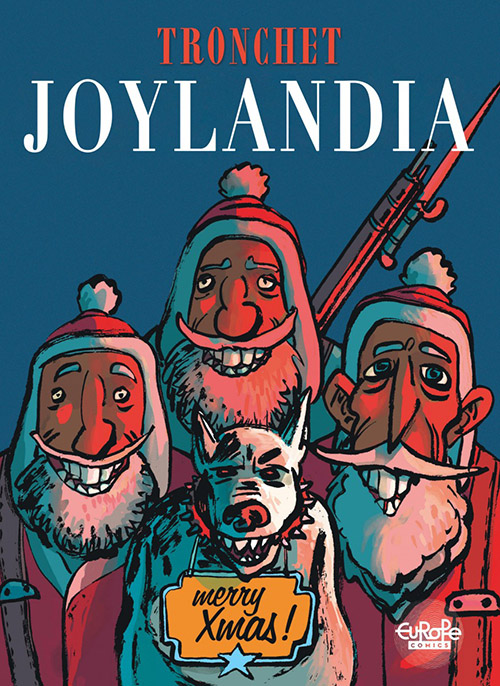 You better watch out. You better not cry. You better not sneeze. Why? Because Santa Claus comes to Joylandia every day! And here, Christmas decorations, trees, and wreaths are mandatory, as is having a clean bill of health. It's a celebration, after all! A party! And everyone has to be happy and healthy… whether they want to or not. Otherwise they'll have the merciless Jolly Fellow brigade to deal with. Prepare for a Christmas tale of nightmare proportions.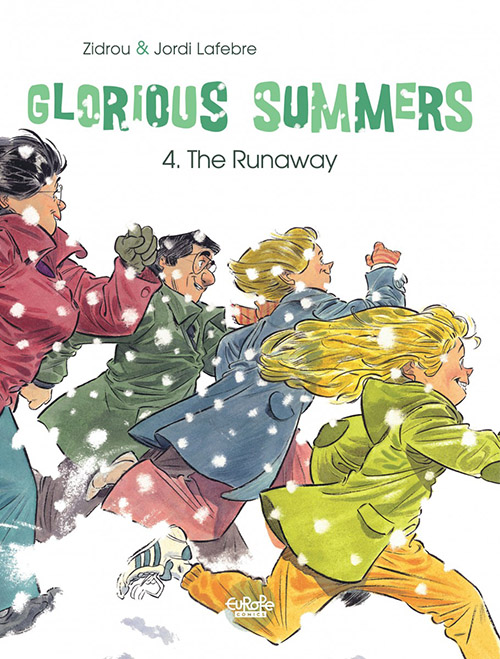 After a difficult year marked by a loss in the family and some unexpected financial setbacks, the Faldéraults could use a break. But with Julie cramming for exams and Louis hell-bent on seeing Pink Floyd in concert, a family Christmas trip seems impossible. With the help of some friends, new and old alike, will Pierre and Madeleine manage to pull off one final, classic Faldérault vacation before 1979 comes to a close?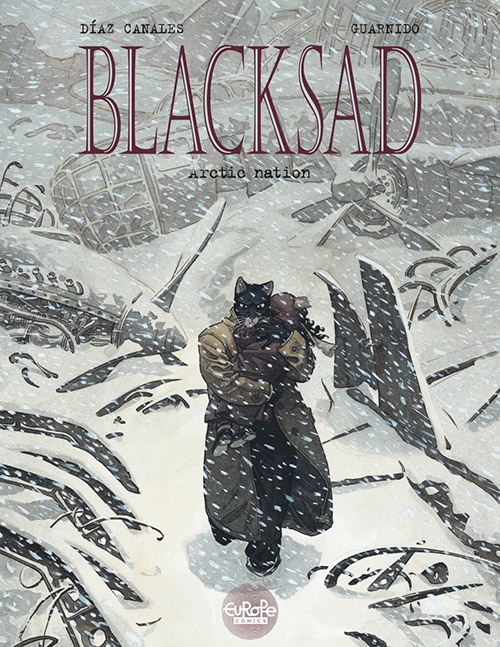 Oldsmill, the town's head honcho, is a white tiger. Karup, the chief of police, is a white bear. Huk, Karup's henchman, a white fox. Along with the other animals of immaculate pelt, they form the WASP association (W for White, AS for Anglo-Saxon, P for Protestant). All other town residents, from the black magpie to the reddish-brown fox to the tabby cat, are nothing but trash. And if the police aren't able to enforce white law, the wide-reaching arms of the ruthless Arctic Nation party, hooded and decked out in white robes, will soon put things in order. And they've got all the ropes and burning crosses they need. In this unwelcoming environment, Blacksad, a private detective, is investigating the disappearance of a child of color, Kyle. Dinah, Kyle's mother, had a job as Karup's housemaid, and some say she was getting pretty friendly with Oldsmill's son. It doesn't take Blacksad long to get his claws right into the vipers' nest, and he's as quick to lash out as any of them…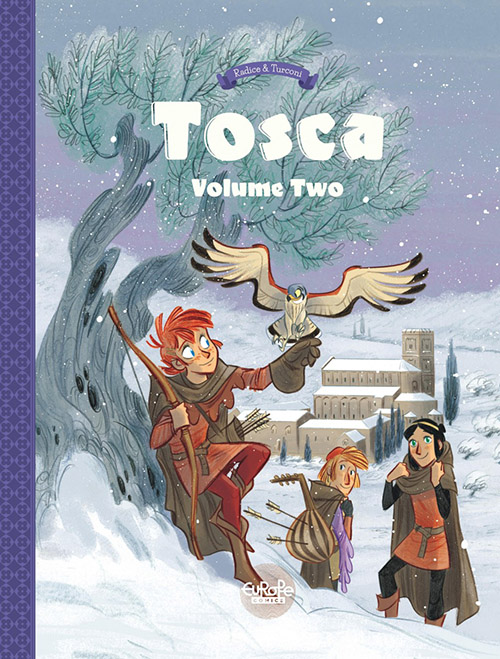 Lucilla is a reluctant duchess. When her parents go away—her father off preparing for war, her mother on a social call—she doesn't want to stay locked inside the castle she calls home. So, donning a boy's outfit, she sneaks off with her tutor, Brother Cosimo, across the Tuscan countryside, and they soon run into her orphan friends, Tosca and her brother Rinaldo. Both fun and danger await on the road to a monastery, where secrets from the past creep into the light as the darkness of war looms in Tuscany.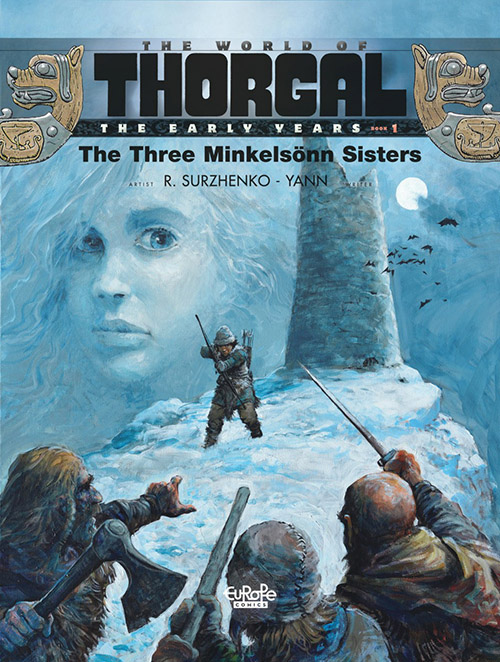 It's been a long, cold winter, and the Vikings are suffering major food shortages. Many of the men have left on a long voyage. In their absence, Björn, son of the village chief, Gandalf-the-mad, has been left in charge. Which is not good news for Thorgal, a young skald of mysterious origins, marginalized by the Viking tribe. Lucky for him, he has the beautiful Aaricia to look out for him. When Thorgal's singing attracts three whales into the bay, the villagers hope they might finally be able to feed themselves. But something tells Thorgal that these are no ordinary whales…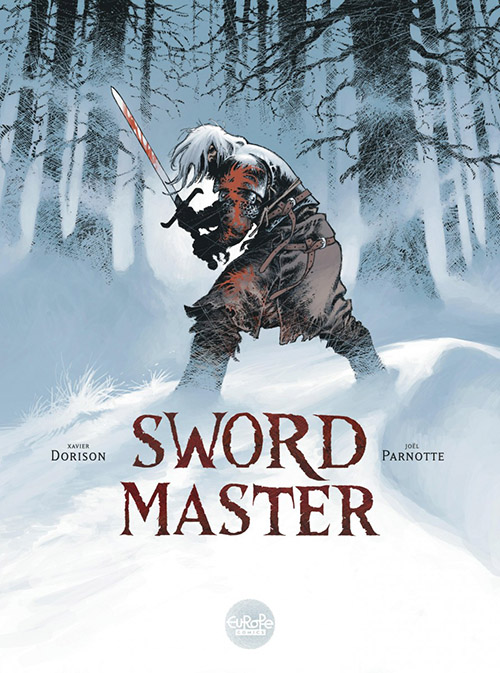 It's 1537. Deep in the lost mountains of Jura, a group of fanatical Catholic mountain people track a young Protestant and his guide. Big mistake. The latter is no other than the ex master-at-arms of Francois I, Hans Stalhoffer. After being defeated in an unfair fight, Hans had decided to exile himself from the court. Some years later, the surgeon that saved his life and his young apprentice ask for his help. They wish to travel undercover to Switzerland to publish the Bible in French. The only possible route is to take the infamous Jura Pass. Hans, who is buried in debt and has become a hardened alcoholic, is willing to sacrifice a few days to guide the two men through the hostile mountains. But when the authorities get wind of the scheme, they launch a wide-scale manhunt. Tracked, injured and cold, Hans will have to surpass himself to win the most difficult fight of his life.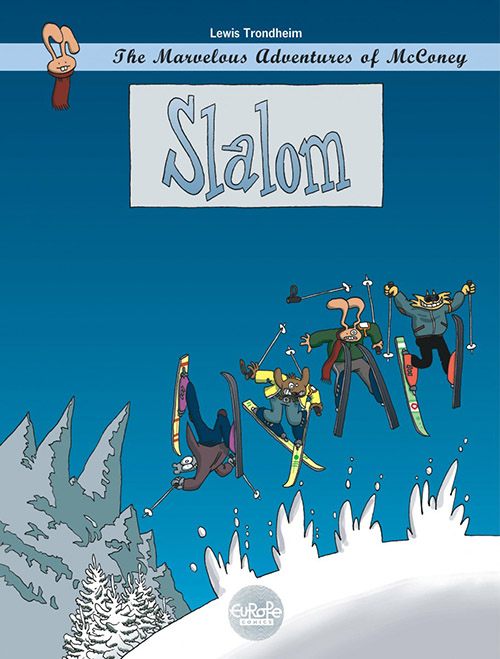 McConey and his buddies can't wait to hit the mountain for winter vacation. Skiing, relaxing, dance parties, and card games… Just what the doctor ordered to get away from it all. Except nothing goes as planned, starting with the mysterious wolf on the prowl that's gobbling up skiers and closing down resorts! A brilliant and off-beat tale to hold you over until your next run down the slopes.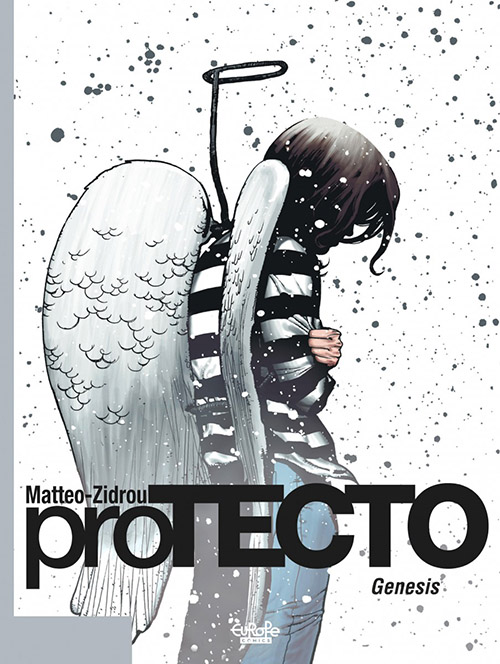 Lorenzo works for proTECTO, an agency of not-exactly-guardian-angels whose jobs are to protect the lives of mortals who have important roles to play in the future. Lorenzo's charge, a carefree teenage girl named Kim, is one of the most important clients, classified as "major elite." Unfortunately, Lorenzo gets distracted and his charge is run over by the heartless and not-entirely-stable Madame, a sort of grim reaper cruising around in a black Citroën. Lorenzo decides to go against the rules of proTECTO and fate itself to save Kim with the help of his fellow protector, Aegis, and Kim's heartbroken older sister, Alicia.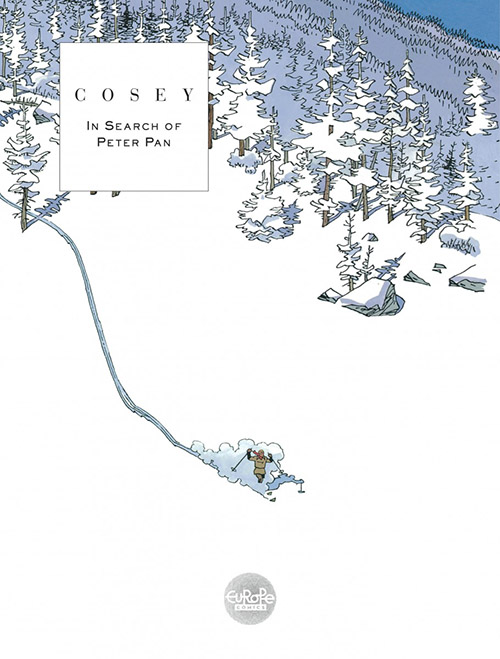 In the late 1920s, Melvin Z. Woodworth is an author with writer's block and a mystery to solve. He takes a vacation to the Swiss Alps to try and kill two birds with one stone—and do some excellent hiking and skiing while he's at it. But the little village, so long slumbering on the wrong side of the Industrial Revolution, is threatened by a force of nature—and, of course, contains secrets of its own. Cosey's masterful graphic novel is presented here in full-color English translation for the first time: an ode to nature, culture, mythology, and a simpler—yet riskier—time.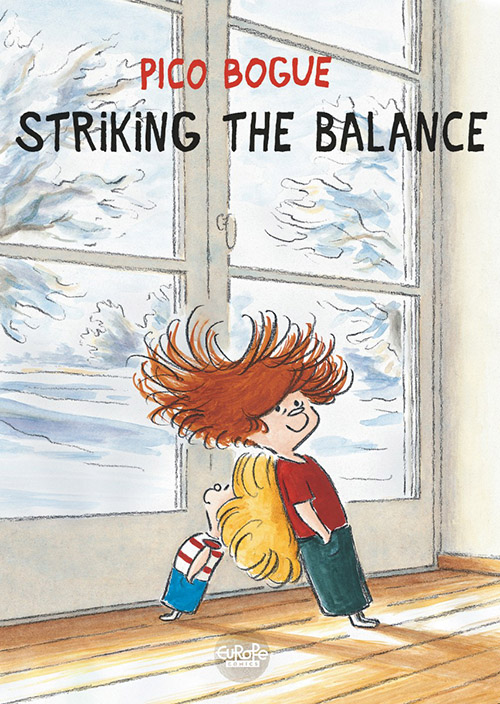 Pico Bogue and his little sister Anna revel in the delights of winter, from Halloween to snowball fights, and, of course, that special Christmas magic.
1907: In a small town in the Pyrenees, a young soldier regularly climbs one of the tallest peaks to deliver supplies to an observatory. There, he makes a friend whose great passion for the Tour de France pushes ambitious Amédée to take up cycling and dream of winning the Tour himself. But the road to the Tour de France is more challenging and dangerous than he thought, and a terrible accident leaves him handicapped. Still, Amédée remains undaunted and trains even harder, which sets him on the road to cycling stardom… until war breaks out and interrupts his plans yet again. An inspiring tale of courage and human achievement, set against the fascinating backdrop of one of the world's most grueling tests of endurance.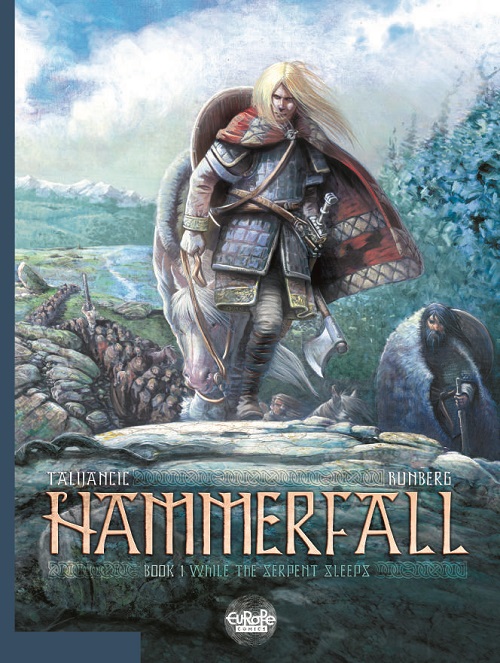 In 8th-century Europe, a clash of cultures and religions inevitably leads to a clash of swords. This harsh, changing world suits Björn the Beautiful, who has a single passion: violence. His bloodlust led to his exile from his native land, and it's his bloodlust that brings him back. For Harald, it's the season of Jul and he's about to marry the gorgeous Lina. The festivities are interrupted by the arrival of Björn and his troops. With his people either slaughtered or enslaved, Harald begins a forced march with the other survivors. He wants revenge, but he must be patient like the serpent: know when to sleep, and know when to strike.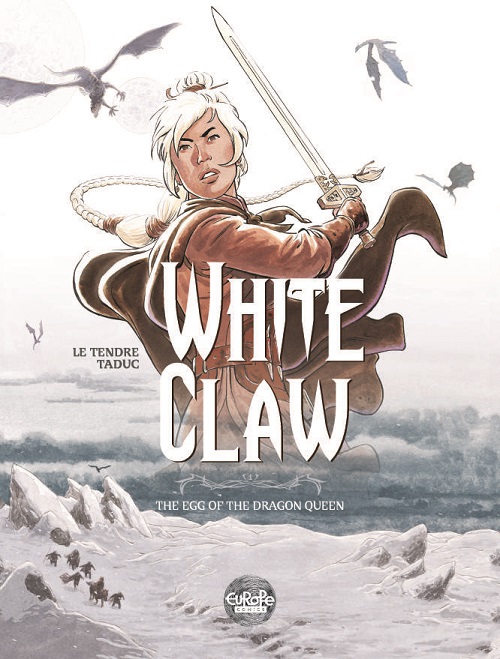 Taho-the-Quick, a poacher, has an encounter with the animal totem of his people, the dragon queen, who entrusts him with the dangerous mission of carrying her egg to her dragon brothers up in the mountains. On his journey, Taho-the-Quick will not only have to fight enemies but also join forces with unexpected allies, including the mysterious White Claw, a warrior with unparalleled skills. The survival of the dragon species and that of a whole people will depend on their partnership.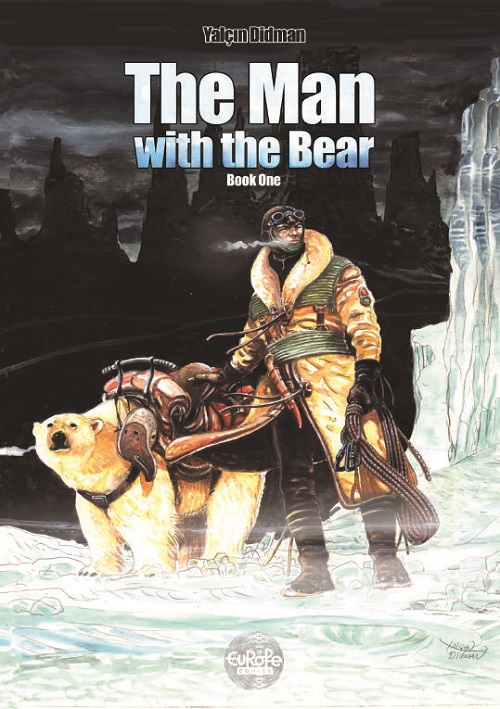 In the year 2071, Earth is a frozen wasteland. The world's fertile soil has been completely covered by frost and the most valuable and scarce resource now is natural food. When a group of geological researchers rediscovers a long-lost space shuttle carrying seed pods, there is hope for a new beginning. But the group meets its demise, except for one. The quest to recover the ship's cargo turns into a free-for-all in the coldest and most barren region of the Earth, and in the middle of it all is "The Man with the Bear," a post-apocalyptic mercenary with a polar bear companion.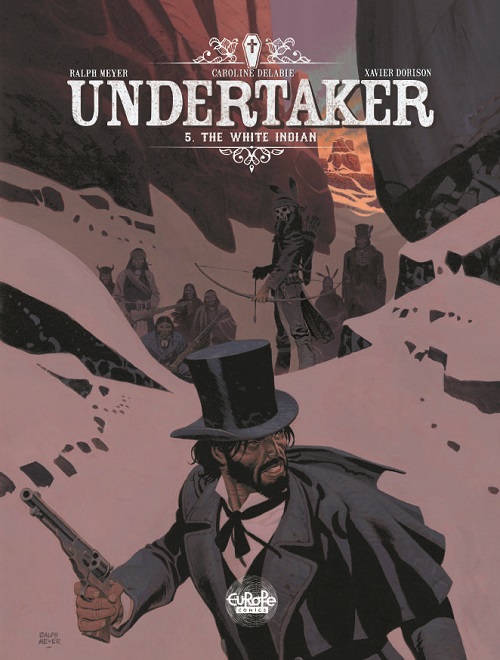 Lin and Rose have gone their separate ways, so Jonas Crow is left alone with his hearse and Jed, his pet vulture. Winter has set in and there's plenty of work to do—plenty of bodies to bury. When a childhood friend, Sid, looks him up and offers him a dangerous job, Jonas eventually agrees to it. Time, however, changes all things, loyalties included. Sid may not be trustworthy, but he was right about one thing—Jonas is the only undertaker in the Old West crazy enough to go after a corpse in Apache territory.
Header image: Blacksad © Juanjo Guarnido & Juan Diaz Canales / Dargaud